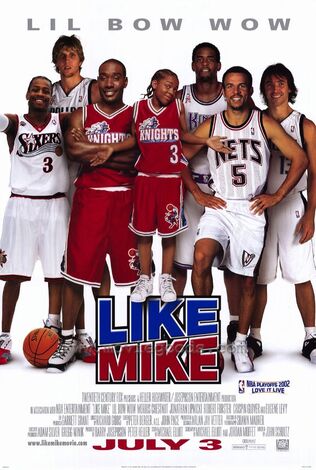 Like Mike
is a 2002 fantasty sports-comedy film, starring Lil' Bow Wow, Morris Chestnut, Jonathon Lipnicki, Eugene Levy, and Crispin Glover. The film features cameo appearances by NBA stars.
Calvin Cambridge is a fourteen year old orphan who retreives an old pair of Nike blazers sneakers from the Salvation Army thrift store, but a bully, Ox throws them on a overhead power line as Calvin, Murph, and Reg go to get them in a rainstorm as the sneakers are hit by a lightning bolt. At the Knights game, Calvin goes one-on-one with Tracy Reynolds as the sneakers give Calvin a superstar caliber talent as he wins by a dunk and is signed to the Knights, but many people are out to get the sneakers.
Soundtrack
Edit
Lil' Bow Wow, Jermaine Durphi, Fabulous, and Fundisha performed the theme song for the film called "Basketball". Also, Lil' Bow Wow recorded songs for the soundtracks.